Introduction
"The Greatest Pool Tournament in the World!" currently takes place in July. In 2020 and beyond, it will alternate between February and March. Live from the Rio All-Suites Hotel & Casino in Las Vegas. With 5,500+ players, 300+ Diamond tables, 40+ divisions, 50+ exhibitors and 700+ mini-tourneys — there's something for everyone!
Important Dates
June 5: Early Entry Discount Ends
​June 12: Last day for Personal Checks
June 30: Last Day to Register, Refunds
​July 3: TBA Names Due
July 7: Last Day for Change Requests
Venue
Address: Rio All-Suites Hotel & Casino | 3700 W. Flamingo Road | Las Vegas NV 89103
Reservations: 888-746-6955
Group Code: SRCUE7
Book Online Here
No resort fees. Free Parking. No Early Check-out Fee (with 24-hour notice) Book by June 30 and receive special group rates of $81 weeknights and $132 weekends. After June 30, the rate is based on availability.
CSI Referee Program
The CSI Referee Certification Program was originally developed to ensure that high-quality referees would be available for the BCAPL National Championships. It has proven extremely successful at producing the very best referees and many independent events, such as the Derby City Classic, U.S. Open 9-Ball Championships, U.S. Open 10-Ball Championships, U.S. Open 8-Ball Championships, U.S. Open One Pocket and many more now request CSI-certified referees. Many high-profile referees and tournament directors have risen through the ranks of the CSI Referee Program, including Ken Shuman and John Leyman.
Cue Storage
• Daily Rates
• Full Event Rates
• Safe & Secure
• 24-hr Video Surveillance
• Located in the Rotunda (Near the BCAPL Registration Desk)
Additional Links
Something for Everyone
From singles to scotch doubles to mixed and women's teams, there's a format for every type of player. Professionals and amateurs compete in the same room. There are even junior and wheelchair events.
Partner with a Pro
DATE
Friday, July 28, 2017
HOW IT WORKS
Win the opportunity to team up with your favorite pro! Eight (8) top professional players will participate in a one-day pro-am (professional-amateur) scotch doubles 8-ball tournament. Each pro will be paired with a BCAPL, USAPL, or CSI member. A free raffle drawing will be conducted at approximately 8 p.m. Thursday, July 27 in the live stream arena and eight (8) lucky winners will be randomly drawn. Each winner may choose one of the eight participating professional players not already taken as his or her partner in the scotch doubles charity tournament. Proceeds go to charity: Donate Life America (learn more below).
GET RAFFLE TICKETS
There are three ways to earn drawing tickets. Simply visit the Donate Life America (DLA) booth and request your tickets before 7 p.m. on Thursday, July 27. 1. Receive one (1) free ticket for each BCAPL or USAPL event you enter (valid I.D. required). 2. Receive one (1) free ticket for making a voluntary contribution to our charity DLA. 3. Receive three (3) free tickets for registering to become an organ donor.
ABOUT THE CHARITY
Donate Life America is a nonprofit alliance of national organizations and state teams across the U.S. committed to increasing the number of donated organs, eyes, and tissue available for transplant to save and heal lives. This is a charity that is near and dear to CSI because our founder, Mark Griffin, had a double lung transplant in January 2015. Without that generous donor, Mark Griffin may not be alive today.
Scotch Doubles
Mixed Singles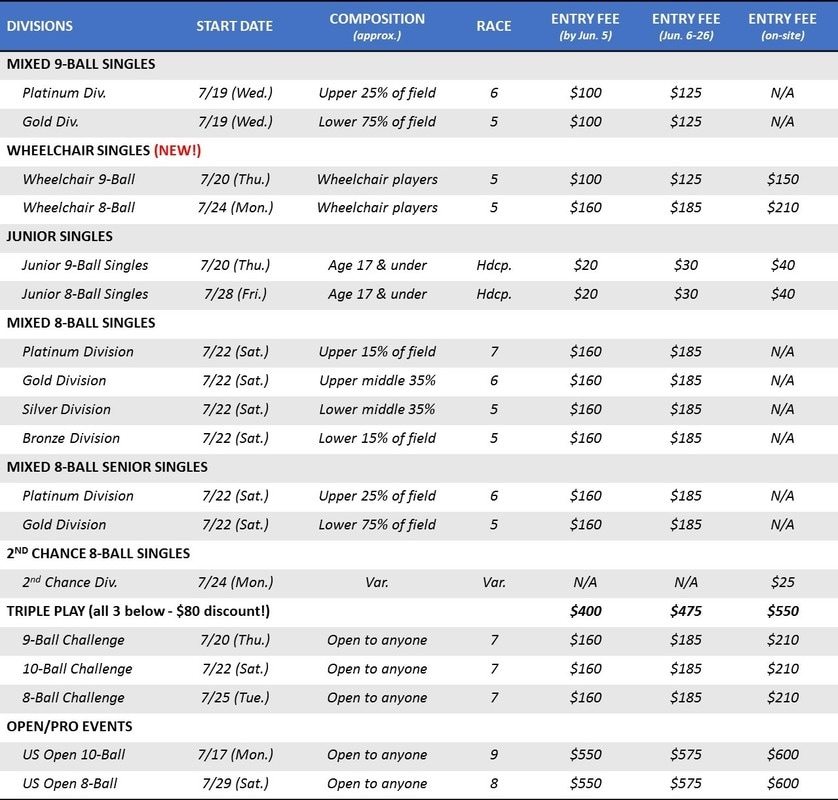 Women's Singles
Mixed Teams
Women's Teams